-Editorial: RL Policar "As you may recall we had solicited the help of MtnBikeRiders.com Team Racer, Eric "The Animal" Hunner to conduct the review on the Torker Graduate. Not only was the Graduate used for grocery gettin', it was also used as a training bike for an upcoming long distance mountain bike race. If we want to test an item and find out if it is bomb-proof, or at least Animal-Proof, then we send it over to Eric. He's one big and strong fella, 6'2″ @240lbs with a 7% body fat…nuff said."
The Product: 2010 Torker Graduate
It does not rain very often in Southern California, but it always seems to rain when I am trying to get some training miles in for the long distance Mtn bike races. With most of the riding areas closed I had some time on my hands to put some time in on this bike.
Features; At first this bike looks Plain Jane, but upon closer inspection you will notice nice features:
5 speed internal hub-Sturmey Archer
Drum Brakes-Alloy 70mm Internal Drum F & R
Full Coverage Fenders
Nice tires-Tioga Gritty Slicker 700 x 32
Rear Rack mounts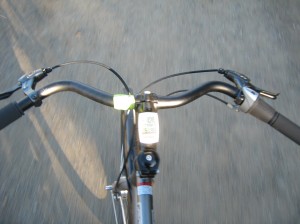 Handle Bar-Alloy All Rounder — I flipped the bar over
Six different frames sizes available
Single speed good looks with gears to boot


Great MSRP @ $499.99
I had fun on this bike; it held up to me mashing on the pedals with few complaints. Keep in mind I am not your average size commuter, I am 6′ 2″ and 240 pounds currently. During my first few rides I ran into some gear shifting problems; I dug deeper into the problem and it was me. I managed to slip the wheel forward during some aggressive hill climbing and lost the correct adjustment on the SA hub. I locked the rear hub into place with a wrench and I made the adjustment to the shift cable after learning the correct way on how to adjust the hub, then the gear shifting improved greatly. If you are interested in the internals of the hub here is the PDF manual link http://www.sturmey-archer.com/userfiles/manuals/XRD5-Tech.pdf
If you have never ridden a Sturmey Archer it takes a little practice; when you want another gear you simply stop or slow your pedaling and twist the grip and let it drop into gear. This is really nice at stop lights, you could be in 5th gear while stopped and twist the grip to 1st and be on your way wiht no pedaling necessary to shift.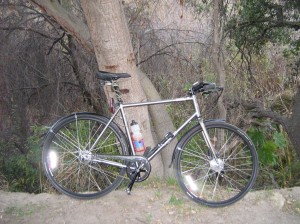 In short this is a great bike at a great price: the ride is predictable and the steering angle is perfect, the fenders keep you dry, the tires can take a beating and roll fast, the option to flip the handle bars is nice and the brakes are smooth even with a heavyweight aboard. A little more on the brakes– they slow the bike down without any signs of fading or locking up. The brakes do require a little more stopping distance then disc brakes, but require very little maintenance.
I have been running back and forth to the grocery store and locking the bike up to the rack — not worrying about some knucklehead slamming his bike into the Graduate and messing up the the gears or brakes. Why? Because it has no external derailleurs and drum brakes that are not exposed to dangers of bike racks. Another nice thing about the Plain Jane look is that a thief would probably look for bikes with more gizmos and bright colors.
Please read our review disclaimer as required by the Federal Trade Commission.