Alright, Cycle Ladies, after a brief stint of testing, here's the Mir.I.Am ASAP review on Lululemon's Fall Commuter "Pedal Power" threads!  As previously mentioned, the collection is only available for purchase online for a limited time – so I tried my best to make this review a quickie!  I posted as-soon-as-I-could-cajole-others-to-take-photos-of-me-in-the-clothes, essentially translates to a week or so.  Here's a quickie overview of each of the pieces I was tasked to scrutinize:
why we made this

This shirt is as easy to throw (on) as Jennifer Grey, only it's better suited for commuting as opposed to dance routines. The lightweight shell is made of Cire fabric to repel wind and rain and the back gathers so we can make adjustments for a perfect fit. Reflective details mean that even in low light we feel comfortable pedaling with gusto.

key features

wind and water-resistant finish helps us battle the elements
not one but two continuous drawcords make fine-tuning the fit a cinch
be bright – reflective details help with low light visibility
stow your phone in the secure zipper pocket
mesh panels let your arms breathe
long in back to keep your rear covered

why we made this

We created these lightweight cycling pants to give us room when we're busting a move during and after our commute. Transformable reflective details help keep us bright when we need it and inconspicuous when we don't.

key features

button the pocket flaps open and switch over the ankle tab for added reflectivity
durable Commuter Stretch Woven fabric is treated with DWR to help keep you dry on the fly
stretchy denim luon side panels allow you the freedom to move
the articulated rise keeps you covered
store your stuff in the secure back pockets

*

why we made this

Leisurely rides call for comfy gear. When we're pedalling at our own pace, we want a layer that keeps us warm and lets us breathe. This long sleeve is the perfect fit – it's cut long to keep us covered and has mesh paneling for us to let off steam. Let's ride!

key features

the loose cut of this shirt gives you the freedom to move
thoughtfully placed Circle Mesh panels in high sweat areas help to keep you dry
reflective details help with visibility in low light
the drop hem with drawcord keeps you covered so you can tuck and ride
just say, "no," to chafing with flat seams
thumbholes help keep your hands warm and makelayering easy
First Glance vs. In The Pants Impressions
Back to my first glance/first impressions/internal brain vomologue (vomit+monologue):
Whoa, these materials are slinky and sexual.  How the crap do they make this stuff… spin the golden saliva of Aphrodite!?  Maybe I should have ordered a size down, they seem flowy and scarfy.  Wait, is this a SCARF?  Must make extra efforts not to choke myself with scarf while cycling… Need scarf guard for rear wheel.
And in the pants/shirt/longsleeve impressions:
Finally! It's actually cold enough to wear frickin PANTS!  Oh yeah, these Pedal Power Pants could use a little more snugness in the butt for my taste, but they are comf-tastic on the ride.  Correction: threads are spun from the Lorax's truffula trees – silky smooth and still breathable and stretchy.  Oooh, I like adjustability of the wind shirt at the bust and waist…  Successfully executed getting dressed for rides on bike without playing scarf wheel hangman.  And I like thumbholes.  And Red.  And Reflective Fabrics!
More Details and Opinions… If you must.
Enough quickie overviews and product data from the Lululemon Pedal Power website.  So let's get serious, velodactyls! (Or not.)  The Lululemon Pedal Power line is definitely a quality product suitable for real autumn weather – I'm talking crisp mornings and falling leaves, windy winds, and maybe a touch of rain.  This stuff may be pricy, but I would for sure put it on my back-to-school (grown-ups get those too, right?) wish list, since I'm "funemployed" at the moment.  Overall, everything looks chic, can take a bit of rain/muddy water, and is definitely passable attire in a business-casual work environment.  Me thinks some photo-narration is in order… good thing I have bikey friends with cameras and smahtphones!  Ready… set… GO: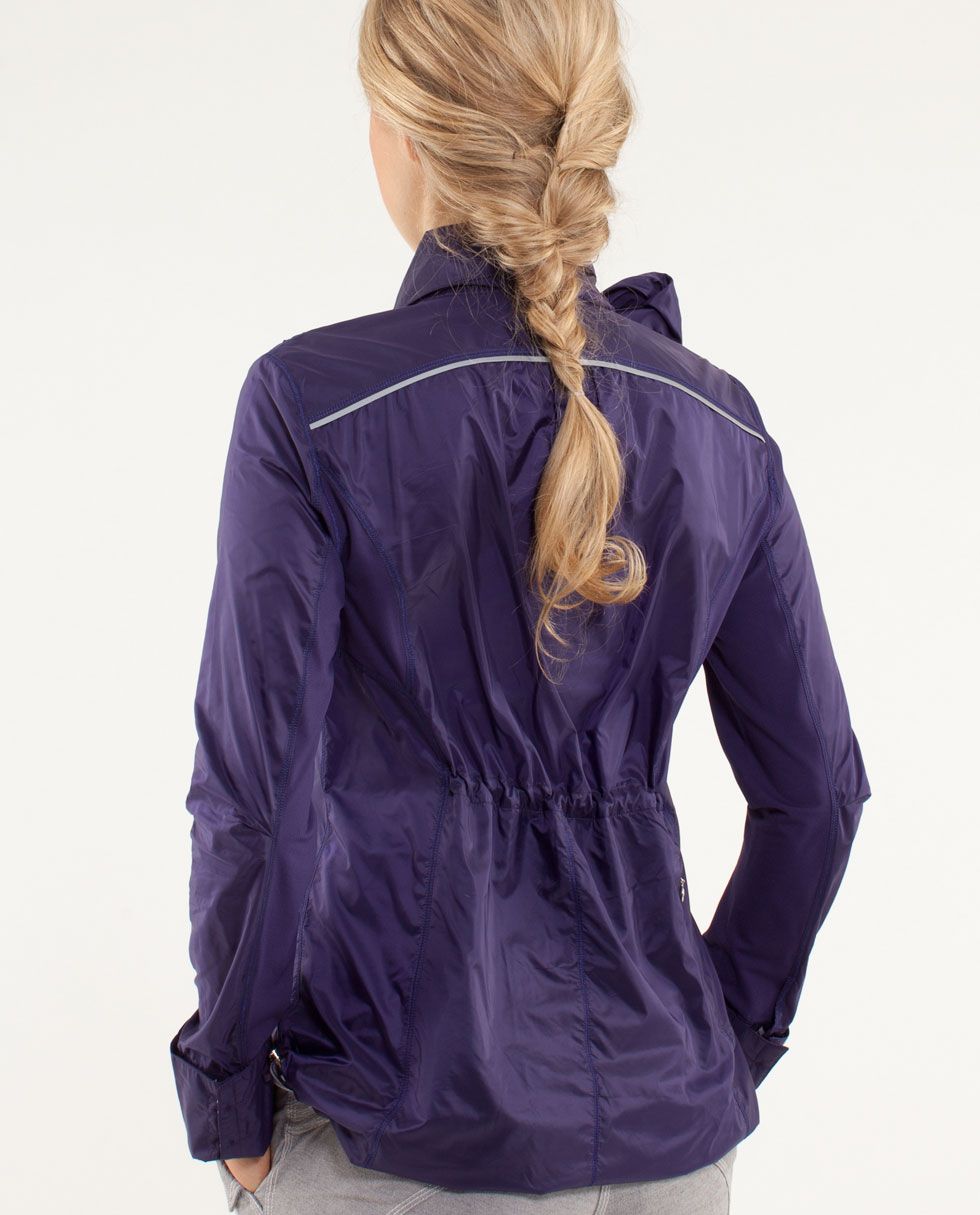 For the Pedal Power Wind Shirt, it definitely cuts out the wind and did the trick on an overcast day, but – per usual Hawaii weather protocol – it did make me sweaty from the inside despite the lightweight material.  The shirt is a bit shiny, and does pass for a great looking "elegant" women's commuter blouse – but not passable if your workplace is a skirt-suit and heels type of gig.  Reflective detailing on the cuffs can be unrolled during the commute for extra flare and reflective visibility!  The shirt zips up and has two pull cords – making a very flattering fit, but they can dig into the middle of your back at times.  It also comes in black or white.
Lululemon's Pedal Power Pants and Longsleeve were perfect for comfy "fall/winter" cruising about town.  Here I am before taking off for a 15 minute ride to my part-time day job at the local Unicorn Petting Zoo.  The Pedal Power Longsleeve was definitely comfy, very long (no instances of people shouting "crack kills!" on this commuter) and very red. It comes in black, white, red, and purple – and the sizing was a bit large for my taste.  I followed the Lululemon Sizing guide, but it seems comfort is the keyword with this piece.  The floppy collar buttons all the way up to protect your neck for those speedy morning downhills and I loved the thumbholes!  Again, despite the breathable panels installed from elbow to armpit to ribcage, I still found myself needing to wash this shirt after one day of warmish fall commuting in Honolulu.  When I wore this shirt, guys in the office said, "You look very cozy today!"
Awww, Pants! The pants were definitely my favorite and most useful.  Even though they were loose in the butt (compare model from Lululemon site with bunchy-butt Mir) they fit in the hips and waist.  The inseam was not too short since the leg opening is tapered at the bottom, no dragging hems for Shorty McMidge Legs over here!  And I even got compliments on these threads at the office from the women and men – passable as business casual!  Some funny things about the Pedal Power Pants included a seam that runs along the middle of your knee cap allowing for a gusseted stretchy knee panel and a seam going right through the crotch like a normal pair of jeans.  Works well on a hybrid/upright type of commuter bike, but I don't think I would last long on the seam on a road bike!  My favorite disco-bling was the reflective panels at the ankle strap and pockets – both can be buttoned into either stealth office mode or flashy night-time ride mode!  Personally, I left it bling-side out all. the. friggin'. time!
So there you have it – for the fashion-conscious commuting ladies out there, if you've got cash to spend on some high-quality threads, hit up the Lululemon Pedal Power line for some fall fancies.  Hope you enjoyed the review… cross your fingers for more butt shots from RL and Hermes at Interbike 2012!
Please click here to read our review disclaimer as required by the Federal Trade Commission.