Not everyone is a great competitor, which means that not everyone wants to be the best when it comes to fun practices such as getting some exercise as they cycle. They simply want to enjoy it or they want to stay fit and in shape. Sure, the true competitors – often professional athletes – want to come out on top and therefore take part for different reasons.
Cycling is a relatively uncomplicated activity. Most of us were introduced to a tricycle as toddlers and to bicycles as soon as we started school. Maybe that is why so many people enjoy it simply to relax and to have fun – individually or in groups.
Some people plan vacations around cycling; some great cycling routes all over the world make for memorable holidays. Who said every break has to be a city trip, or days at the beach, or hours on deck chairs around swimming pools? 
FOR SHEER FUN
Some celebrities are often spotted around town cycling away for the fun of it – nothing serious, just relaxing, it seems, as they either cycle by themselves or treat their little ones to a fun ride. Arnold Schwarzenegger, the world's most famous "twerker" Miley Cyrus, Jennifer Aniston and David Byrne of Talking Heads can be seen as they pedal on in a relaxed fashion. Byrne is actually a great advocate for cycling and wrote a book called Bicycle Diaries on the subject. His preferred means of transport to get around the cities he visits is to jump on a bicycle and get moving!
Brad and Angelina (Mr and Mrs Pitt, of course) love taking the kids on a bike stroll when time allows. Naomi Watts also likes to get out, and what better way than to get her hubby and kids to join her on a bike ride, even in a city as busy as New York. Recreation at its best!
Even the President Obama has been spotted out with his family from time to time, and in 2009 his administration doubled spending on walking and cycling initiatives, resulting in more than double the number of cycling trips in America.
Well-known British politician Boris Johnson (Mayor of London, Member of Parliament) has been in the news for his efforts to encourage Londoners to cycle more, by announcing that 2 new cycle routes would be built soon. It forms part of a huge £900m project to see London natives get on their bicycles and start pedaling. Some may be sceptic about these plans initially, but support may grow if it proves to be successful.
While cycling is a fun activity and it a great way to get outdoors, it also helps keep the legs looking good, the butt firm and the cheeks rosy and healthy.
CELEBRITIES WHO TAKE CYCLING SERIOUSLY
Not all celebrities cycle for fun; no, some take this activity quite seriously. Not all of them may have aspirations of becoming top cyclists, but quite a number of them see cycling as a way to stay fit and strong.
It is a well recorded fact that F1 driver Jenson Button stays fit and sharp by cycling often as part of his fitness regime. Because Formula 1 racing demands of the drivers to carry as little weight as possible, cardiovascular exercise is very important, and that is why cycling is a wonderful way of staying lean and strong. To test his fitness, Button uses the 12km Madonna Climb on the Italian border, which is the same climb that someone like Lance Armstrong does to test his own form. Says Button, "It hurts like hell…I love cycling in the mountains…the views are fantastic and it is doing you good."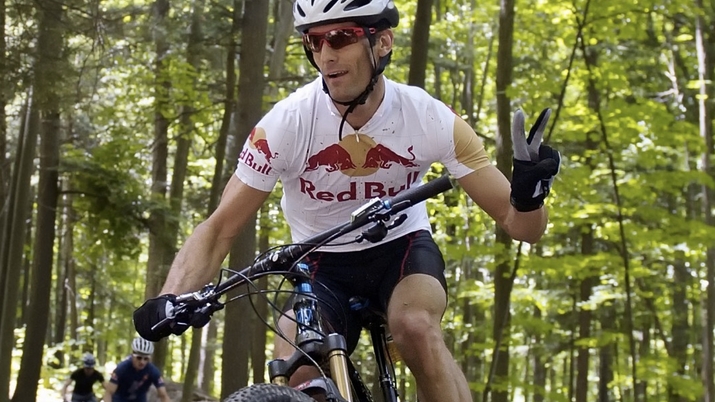 Another F1 driver, Mark Webber, loves cycling and enjoys both road and mountain biking to stay in great shape. He enjoys cycling both as a leisurely activity and a way to stay fit.
Marcin Horecki, former member of the Polish National Alpine Skiing team whose career was cut short because of injury, found a new passion in playing poker. Very competitive by nature, Horecki makes no secret of his fondness for testing himself against others. More recently he added taking part in cycling races to his impressive resume. In his first ever cycling race he finished 900th out of 1,500 competitors – not bad for a maiden effort.
The late Robin Williams who reportedly was a friend of Lance Armstrong and had, at one stage, 60 bikes in his garage! Another actor known for his love of cycling on a more serious level than spinning on his porch, is Matt Damon, who has completed Cape Town's famous Cape Argus Cycle Tour, the world's largest timed cycle race. Other celebrities who have completed this race include Sir Richard Branson and Armstrong himself.
Jake Gyllenhaal of Brokeback Mountain fame is another Hollywood heavyweight who professes to being addicted to fitness, which includes time on a bicycle in both California and New York. Other Hollywood celebrities who love cycling include Patrick Dempsey (Grey's Anatomy) and Mark-Paul Gosselaar (NYPD Blue, Raising the Bar). The latter is certainly no novice when it comes to the sport. Gosselaar started racing in 2005 and went from category 5 to category 2 in only 2 seasons which is not bad going for an amateur. Dempsey is even more involved; an avid cyclist himself he is on record as cycling more than 100 miles a week.
It seems that cycling is gaining ground everywhere as more and more people are out on the roads – not only those who take it seriously, but also housewives and the Average Joe. They're out there, cycling the streets of their cities and villages, and also the back roads of the countryside. It simply suits so many people and personalities. Whether you want to cycle individually, as a member of a social club, as a family to just get out, or because your competitive nature forces you to do so, it is easy. Just do it!