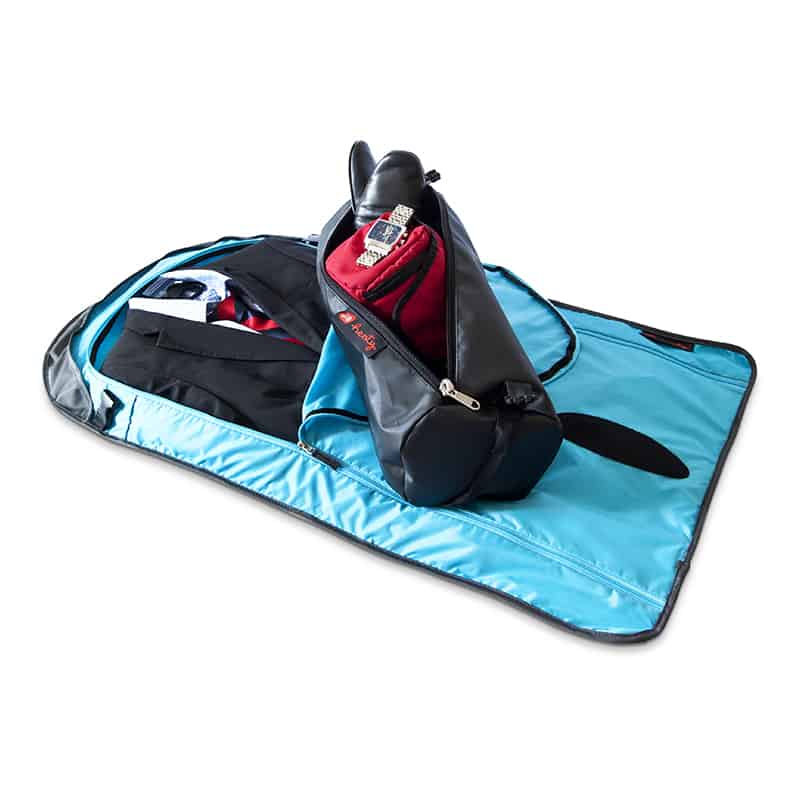 So a while ago we were contacted by yet another small Australian company (yep the Cycle Cuffs are made by some Australian guys too… what is with all these new bike-related things coming out of Australia anyway??). Right, so as I was saying we were contacted by these guys asking if we would review the Henty Wingman commuter/carry-on suit bag (not to be confused with the Airborne Wingman, which is a dirt jump bike). We of course said yes, and I've been in possession of this nifty bag for some time.
What sets the Wingman apart from other bags? Well, for starters it's meant to carry a suit without messing it up (which very few bags do). However, the thing that's truly unique is that this suit bag doesn't fold – it rolls up, preventing the suit from ever having to bend enough to get creased (verified, though I did not get a picture of me in a suit, sorry). It also has a smaller bag (more the size of a small gym bag) that clips inside this roll, and some pockets on the outside for things you might want access to (lock, laptop, etc.). At $179 (Australian, currently equivalent to $187 U.S.) this isn't a particularly cheap option, but it falls very much in line with pricing on other serious commuter bags, and you do get good value for the price – I was impressed with the overall construction and quality of materials.
So what's the verdict? Well, in a nutshell – if you need to go any distance and you want to bring a suit with you, you should probably get this! If there's a better way to transport a suit – whether across town, on a train, or through an airport – I haven't heard of it. The suit pocket itself is easy to get a suit in (and comes with a pretty nice folding suit hanger). The inner bag – while lacking in the structure/separation you'd normally find in commuter bags – clips into place nicely and stays there (it also has its own strap for easy carrying by itself). I originally was worried that it would sway back and forth too much, but that was not the case. The outside pocket – while not terribly roomy – has enough space for the essentials. The Wingman also comes with a rain cover, which packs nicely into its own little pocket for quick access.
That said, it isn't perfect – I did find a few things I think could use improvement. First, the strap arrangement is a little weird – the shoulder strap buckles in the middle of the chest instead of at the hip (or not splitting at all like many bags), which can be inconvenient. The side strap works fine, but has a loop over the shoulder strap, which can easily slip off when taking the bag on or off. The length of the side strap is also harder to adjust once the bag is on, as the adjustment point is where the strap buckles to the bag. Overall, I found I was messing with all the straps fairly often to try to get everything in the right place. If a version 2 of this bag comes along, some change in this area would be my top priority.
Also – like a couple other bags I've tested lately – the bag interfered with my over-the-shoulder vision, especially when on a road bike and leaning further forward. Now I will be a little forgiving here, since this is after all made in Australia and they drive on the wrong side of the road there – if I had to look over my right shoulder instead of my left it wouldn't be an issue at all! Still, if this is going to be your normal on-bike bag a mirror would be a nice thing to have, as otherwise you'll probably injure your neck trying to see what's behind you.
Finally, I did get to try the rain cover (thanks to Hurricane Sandy for providing some serious rainfall to test in) and while after about 45 minutes my clothes were all still dry, there was some moisture that got in and got some of the exterior of the bag damp. Again not a deal-breaker, but it's good to note that if you're going to be in a serious downpour for a long time, you might want to investigate other options.