This morning I was zipping down a six block descent on my way to work, eyeing a sporty black car that was creeping suspiciously down the hill. As a good defensive bicyclist, I slowed my roll, covering the brakes as I gained on the car and an approaching intersection. The light was green; I was headed straight through the intersection and so was the car until it made an unexpected, unsignaled right turn, cutting me off. Luckily, I had slowed significantly and changed my trajectory, turning right alongside the car. Not sure if the driver even noticed me.
I was lucky. Sometimes defensive biking isn't enough to avoid a collision.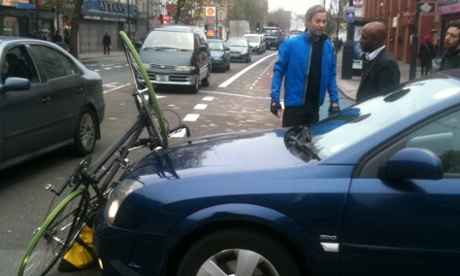 This was not my first near miss, not even the first one of the week, so when a friend told me about the BLAZE Laserlight, my first thought was, "I could definitely use a little green bicycle fairy." Because that's what the BLAZE light is: a high-powered LED that projects a green bicycle shape onto the roadway about 16 feet in front of a cyclist, warning drivers of an approaching rider. Hopefully, the green bike will alert space-cadet drivers and make cyclists less vulnerable to blind spots and other potential dangers.
It's true, BLAZE Laserlight is just the newest iteration of an idea that's been around for several years—check out these laser beam bike buffers—but I have yet to see this concept in action on the street. Maybe it seems like overkill to have little green bikes (or laser beams) announcing a cyclist's every turn.
On the other hand, maybe laser beams are just the beginning. A group of engineering students at Northeastern have taken bike safety to the extreme, creating the Interactive Bicyclist Accident Prevention System (iBAPS). The "smart bike" prototype incorporates a plethora of safety features.
Smarter than your average cyclist? The iBAPS features:
Sensors to detect cars impinging on a cyclists space
Laser beams (of course) that project a 3-foot wide virtual bike lane
If a car comes too close, the bike "emits a loud message, telling drivers to move further away." (I think we're all wondering the same thing, what is this message and is it customizable?)
When approaching an intersection at high speed, the handlebars vibrate as a warning to slow down. (Frightening.)
Using Bluetooth tech, the bike can sync up with a rider's smartphone leading to all kinds of excessive data extrapolation. Like tracking riding trends to inform the biker how likely it is that their riding behavior will lead to a crash.
With the smartphone GPS, the bike can vibrate the handlebars, alerting the rider to make the correct turns to reach a destination. (I just can't get over the vibrating thing. It would scare the crap outta me.)
As cars get smarter too, eventually the bike will be able to communicate with vehicles on the road. (Where's  my self-riding bicycle, Google?)
Read more about the iBAPS smart bike from the Boston.com.
All these features make my measly helmet & flashing lights seem antiquated. I'm all for bike safety measures and, although some of these seem a bit extreme, to ensure I arrive to my destination unscathed, nothing may be too extreme.
How far would you go to ensure your safety while bike commuting? Is it possible that the iBAPS is missing any features?